Quote:
"
No day in which you learn something is a complete loss." - David Eddings
It is hard to believe that in a little over a week the first quarter of school will come to an end. We have truly had an amazing start to the school year. A few weeks ago I asked teachers what they liked most about teaching at Hilsman, and I got some great responses. This week, I want to ask students and parents, "Why are you proud to be a Hilsman Panther?" Leave your answer in the comment section at the end of the blog. We would like to use some of these comments in upcoming communications.
Hilsman a Finalist for STEM Award
Last month, Hilsman was named a finalist in the middle school category for the Technology Association of Georgia's STEM Education Awards. A team from Hilsman traveled to Savannah this past Friday to represent Hilsman at the TAG conference. Although we were not recognized as the winner, it was a great honor to be named as a finalist and our team represented Hilsman well!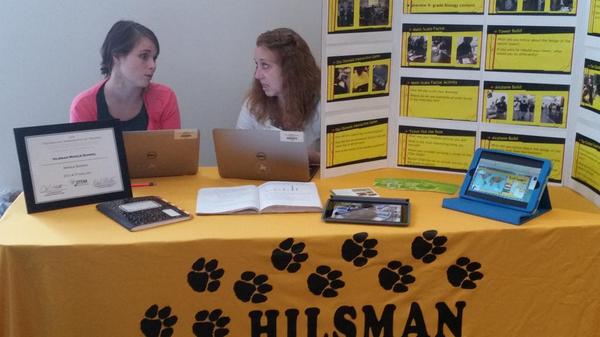 Ms. Murphy and Ms. Butler are ready to answer questions about our STEM initiatives.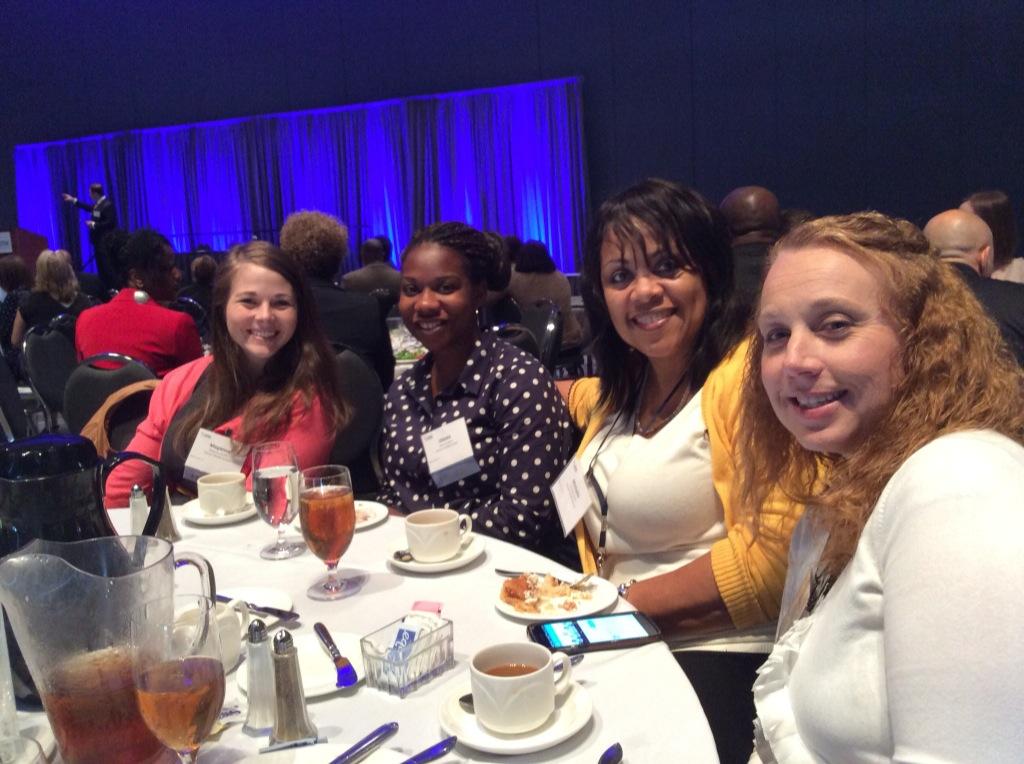 Lunch at the STEM conference. Hilsman recognized as a finalist!


Devices Deployed!
We began sending home devices on Monday of this past week. Remember, your student's device cannot go home until the parent/guardian has viewed the orientation and returned a completed Acceptable Use Agreement, found here.
If you were unable to attend a technology orientation session, you may view the orientation online by clicking the link below. The orientation is a Google presentation, and has a short video embedded in the second slide:
Once you have viewed the orientation, either in the parent center or online, you will need to sign and return the AUA to Hilsman. If you are choosing to pay the $25 technology fee, You may send that to school with the form as well. Your child can turn in the form to the front office, to Ms. Welch-Quigley, or to their homeroom teacher.
Additionally, here are links to the Student/Parent Handbooks, in both English and Spanish:
Handbook - English
Handbook - Spanish
Here is a snapshot of one of the ways that technology is being integrated into daily instruction of the standards. Photo courtesy of our new instructional coach, Ms. Hayes!
Students are using devices to answer text dependent questions.
PTO News -
Yankee Candle Fundraiser
PTO's Yankee Candle fundraiser began Monday, September 22nd and runs until October 7th. This is a great way to help raise funds to support educational field trips, classroom activities and teacher appreciation events throughout the year. Every child who sells at least one candle will be entered into a nationwide drawing for a trip to Orlando for a family of 4. Your child can set up an online store to receive orders as well, so that out of town family and friends can participate. Please support this fundraiser!
We love Yankee Candles!
8th Grade Washington, DC Trip
Our 8th grade teachers are planning a trip to Washington D.C. this spring for 8th grade students. The deadline for sending in the deposit is September 30th. Click the link below to view the presentation if you were unable to attend the information meeting.
Picture Day Make ups
The photographer will be back on October 3rd to take photos of students who missed the first picture day, as well as to take club and team photos. This will not be uniform free day; however, students may wear their spirit wear.
ELA/Math Curriculum Night
We had a great time at curriculum night! Check out the pics below:
Families learn about our math curriculum.
Families respond to quotes from a variety of texts.
School Council
School Council will have their first meeting at 5:30 on September 30th. Congratulations to the following individuals who will serve on School Council this year.
Michelle Pisarek - Business Partner, East Athens Counseling
Gayle Andrews - Business Partner, UGA College of Education
Denise Everson - Parent, 6th grader
Chinami Goodie - Parent, 7th grader
Athletics
Many sports are underway. Here is the schedule for this week:
Cedar Sports:


Tuesday, Sept. 30 Volleyball @ Flowery Branch ( Apalachee ) 5:00/7:00

Thursday, October 2 B-Team Football vs. Flowery Branch 5:30
Volleyball vs. Tallulah Falls 5:00/7:00 ( *SR NIGHT )

Friday, October 3 Football @ Heritage 7:30


GO JAGS!!!!!!!!!!!!!!!!!!!!!!!!!!!!!!!
Hilsman Sports:
Tuesday 9/30 Volleyball - Hilsman vs. BHL 4:30 (Away)
Satuurday 10/4 Cross Country @ Athens Academy
Announcements
Our announcements are now a daily Google Presentation, which can be viewed by clicking here. In these announcements there is information regarding sports tryouts, club meetings, etc. To watch our weekly Panther News show, click here.
More Ways to Connect
Here are several other ways to stay connected to Hilsman.
Campus Parent Portal
Parents can access their student's grades, attendance, and performance on assessments through the Parent Portal by establishing an account. To access the directions to sign up for Parent Portal, click here. There's also an app that you can download to your phone that will send you push notifications every time a grade is entered!
Follow us on Twitter!
Hilsman Middle has a Twitter account. This is one more way you can stay connected to Hilsman, keep up to date on all Hilsman news, and receive links to information related to your child's education. Follow us on twitter @HilsmanPanthers.
Facebook
Hilsman has a Facebook page that is updated regularly. Go to the Hilsman Middle School Facebook page and Like Us! You can also join the Hilsman Middle PTO Facebook page. It is a great forum for parents to get information and ask questions.
Team Websites
You can also visit the team website for the teaching team to which your child belongs. From there, you can access individual teacher webpages, resources, and Hilsman news.
Parent Portal
Keep up with your child's grades and assignments by logging into Infinite Campus' Parent Portal. To sign up for a Parent Portal Account, click here.
Remind
Upcoming Events - Mark Your Calendars!

September 30th School Council Meeting 5:30 PM
October 3rd Picture Day Make-ups and Club/Sport Pic Day
October 10 - 17th Hilsman Book Fair - Contact Leslie Gonzales to volunteer
October 13th Professional Learning Day - No School
October 15-17th Early Release- Fall Parent Conferences